Perth & Gold Coast Added To Regional Areas
The number of cities that are eligible for regional skilled migration have been expanded to include Perth in Western Australia and the Gold Coast in Queensland once changes are introduced in mid-November this year.
The Western Australia and Queensland State Governments are interested to attract more international students to their universities and regions and have requested for Perth & Goldcoast – respectively – to be classified as 'regional'.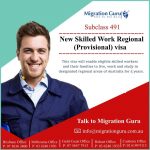 Students who complete a CRICOS registered Course in regional cities and major regional areas, including Adelaide, Sunshine Coast, Canberra, Newcastle/Lake Macquarie, Wollongong/Illawarra, Geelong, Hobart, and now Perth and the Gold Coast from 16th November will be able to obtain an additional year on their Graduate visa. This means these students will now receive a 3 Year Graduate Visa. Students who study at all other regional areas will continue to obtain an additional 2 Years on their Graduate visa.
With the November introduction of one definition of 'regional' across all visa categories, the reclassification of Perth and the Gold Coast as regional areas mean businesses in these areas will be able to attract skilled workers through the new Subclass 494 Skilled Regional Employer Sponsored (Provisional) visa, and migrants can also consider the new Subclass 491 Skilled Work Regional (Provisional) visa.
In a Nutshell
A third year for most 485 graduates studying in these areas
5 extra points for study in Perth/GC
Perth/GC can be used for the new 491 state sponsored and 494 visas
Perth/GC can be used for relative sponsored 491 visas
Priority processing of regional visa applications
Greater opportunities for sponsored visas for applicants with relatives in Perth and the Gold Coast or other regional areas.
Better options to obtain permanent residency for people residing in regional areas.
The Department of Immigration has also announced an additional 2000 places in the regional visa quota, increasing to 25,000 out of the 160,000 total places available.
Migration law is constantly changing and engaging an experienced solicitor and migration agent can be invaluable in your goal of securing a student visa to Australia.  Whether you or if you know someone who can apply for Regional Visa, encourage them to contact Migration Guru to see how we can assist. Migration Guru has assisted in countless visa applicants and has more than 50 years of collective experience in a dynamic team of Business Development Managers, Solicitors and Migration Agents in Brisbane, Gold Coast, Canberra, Melbourne and Hobart. This experience ensures that staff can advise and navigate client's through the new changes to find their best visa options.  We wish to remind readers that the first consultation with Migration Guru is free of charge.
Our team may be contacted by via email on info at migrationguru.om.au or by calling 07 3036 3800. Readers are encouraged to follow us on Facebook for all the updates to Migration Law – https://www.facebook.com/migrationguru/
** Disclaimer: – The above article constitutes only generic information on migration issues, and does not constitute specific migration advice to any entity or individual.