Regional Visas Seminar – Hobart
Subclass 491 & SubClass 494  
Migration Guru is conducting a Subclass 491 & 494 Hobart Seminar at their Hobart Office whereby applicants and students will have the opportunity to meet our Senior Migration Lawyer and our Director of Business Development.
The Seminar will cover details related to Subclass 491 and Subclass 494 and answer questions that the applicants / students may have.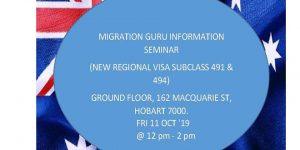 Register now using the link below to secure your seat today as places are limited.
Our team may be contacted by via email on info at migrationguru.com.au or by calling 07 3036 3800. Readers are encouraged to follow us on Facebook for all the updates to Migration Law – https://www.facebook.com/migrationguru/