Introduction of New Regional Visas – Subclass 491 visa
The Australian government is set to introduce key changes to Australia's immigration points system which will become available in November 2019. Points are awarded to potential visa applicants for categories that are linked to the applicant's ability to make contributions to Australia's economy.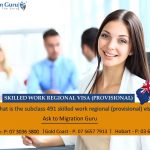 The changes to the points system are as follows: 15 points for nomination by a State or Territory government agency or sponsorship by a family member residing in regional Australia, to live and work in regional Australia; 10 points for a skilled spouse or de facto partner; 10 points for certain Science, Technology, Engineering and Mathematics (STEM) qualifications; 5 points for a spouse or de facto partner with 'competent English' and 10 points for applicants without a spouse or de facto partner.
As part of these upcoming changes, the Australian government will also introduce 2 new regional (provisional) visas that aim to benefit regional Australia. The first new visa is the Skilled Work Regional (Provisional) visa (Subclass 491) which is an enhanced points-tested visa. This visa substitutes the Subclass 489 visa and requires either state government nomination or sponsorship by an eligible family member who is settled in a designated regional area. Applicants will still need to meet the overall points test, age, English language, skills assessment, character and health requirements.
The other new visa is the Skilled Employer Sponsored Regional (Provisional) visa (Subclass 494) which is an employer-sponsored visa. This visa substitutes the Subclass 187 visa and will no longer provide upfront permanent residency. This new visa requires the applicant to live and work in regional Australia for three years in order to be eligible for permanent residency. Applicants must still be nominated by an employer in regional Australia and meet age, English language, skills assessment, work experience, character and health requirements.
The new permanent residence visa that will be introduced is the Permanent Residence (Skilled Regional) visa (Subclass 191). To meet the requirements of the Subclass 191 visa, applicants will need to hold one of the new skilled provisional visas 494 or 491 and demonstrate that they have lived and worked in regional Australia for at least three years, and complied with all the other visa conditions.
Migration law is constantly changing and engaging an experienced solicitor and migration agent can be invaluable in your goal of becoming a permanent resident or citizen of Australia. Whether you or if you know someone who can apply for Skilled visa, encourage them to contact Migration Guru to see how we can assist. Migration Guru has assisted in countless visa applicants and has more than 50 years of collective experience in a dynamic team of Solicitors and Migration Agents in Brisbane, Gold Coast, Canberra and Hobart. This experience ensures that staff can advise and navigate client's through the new changes to find their best visa options.  We wish to remind readers that the first consultation with Migration Guru is free of charge.
Our team may be contacted by via email on info at migrationguru.om.au or by calling 07 3036 3800. Readers are encouraged to follow us on Facebook for all the updates to Migration Law – https://www.facebook.com/migrationguru/
** Disclaimer: – The above article constitutes only generic information on migration issues, and does not constitute specific migration advice to any entity or individual.