Migration Guru is proud to report it has been yet again reported and rated as one of the Best Migration Lawyers in Brisbane, Southport and Gold Coast.
Migration Guru has collective experience of more than 80 years in Australian Immigration Law and specialises in dealing in complex and difficult cases due to its depth of knowledge and experience.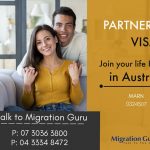 Our clients have constantly mentioned in our reviews how knowledgeable and skilled our team of lawyers are and how they don't hesitate to go the extra mile to assist our clients and seek positive outcomes for their Migration matters.
Being the Top Migration Lawyers comes with its sets of challenges due to the constantly changing Australian Immigration Law, however with its persistence, training and knowledge upgrades keeps itself in the Top spot in Australian immigration arena.
Migration Guru deal with Spouse & Partner Visas, AAT matters, FCC Matters, Skilled Migration, Work Visas, Parent Visas, Business Migration, Student Visas, Visit Visas, Citizenship Matters.