New Visa Conditions For Regional Visas
Condition 8581 & 8580
With effect from 16th Nov 2019 Department of Home Affairs will apply two new visa conditions on 491 & 494 visa holders.
These are 8581 & 8580. These are sort of compliance / monitoring conditions on visa holders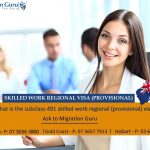 Condition 8581
"Condition 8581 requires the visa holder, if requested in writing by the Minister, to attend an interview at a place and time or in the manner specified in the request. The interview may be face to face or undertaken using modern video conferencing applications such as Skype or Facetime."
Condition 8580
"Condition 8580 requires that, if requested in writing by the Minister to do so, the visa holder must within 28 days provide any or all of the following: the visa holder's residential address, the address of their employer or employers; the address of the location of each position in which the holder is employed; the address of any educational institution attended by the visa holder.
Both of the above conditions are Compliance or Monitoring Conditions that are being applied on applicants, it is advisable that if any applicant receives instructions from Department of Home Affairs to report back as per these conditions, then they should promptly seek advise from a qualified and experienced Migration Lawyer, as this should not be taken lightly.
if you know someone who has received instructions to report back on condition 8581 and 8580 then encourage them to contact Migration Guru to see how we can assist. Migration Guru has assisted in countless visa applicants and has more than 50 years of collective experience in a dynamic team of Business Development Managers, Solicitors and Migration Agents in Brisbane, Gold Coast, Canberra, Melbourne and Hobart. This experience ensures that staff can advise and navigate client's through the new changes to find their best visa options.  We wish to remind readers that the first consultation with Migration Guru is free of charge.
Our team may be contacted by via email on info at migrationguru.om.au or by calling 07 3036 3800. Readers are encouraged to follow us on Facebook for all the updates to Migration Law – https://www.facebook.com/migrationguru/
Disclaimer: – The above article constitutes only generic information on migration issues, and does not constitute specific migration advice to any entity or individual.