Who doesn't love to Travel? The Department of Home Affairs has identified this need and hence allows people to apply to visit Australia. There are different types of Visitor visas designed for short-term travel to Australia for the purpose of tourism, visit family and business. Which stream you fall into depends on the country of passport you hold and the purpose of the trip.  The Visitor visa can be granted for a duration which varies from three months to twelve months.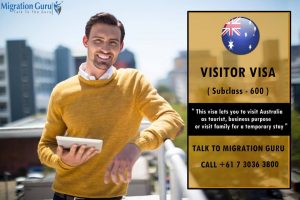 In order to be eligible to apply for Visitor visa you would have to satisfy basic visa requirements. You should also have enough money to support your duration of stay in Australia. One of the most common requirements for visa applications is your financial capability to prove that you can finance your trip. In case you have a sponsor who will sponsor the trip then financial statement of the sponsor is necessary too. You may also be required to prove that you of good health and character.
Last but not the least is the requirement that you are a Genuine Temporary Entrant – i.e that you will only be in Australia for a brief visit and will return to your home country. This has to be proved by showing them proof of genuine ties to home country. Based on the documents provided by the applicant, the Department of Home Affairs will determine whether the applicant indeed has a true purpose of temporary stay and the intention to stay in Australia is only short-term. To assess this, the Department would generally consider applicants' background in their home country, their immigration history, their reasons for visiting and other information.
While you may consider applying visitor visa is a cakewalk it's good to be mindful to ensure that there are no inconsistencies in your application. Should any inconsistency be found in your application, not only will your visa be refused, but your future applications would be scrutinised even more.  Visitor visa application usually require a lot of substantiating evidence. Lack of sufficient evidence may lead to visa refusal. Hence, engaging a Registered Migration Agent engaged would ensure that your application is 100% correct before it is lodged.
Once you receive the Visitor visa you should abide by all the Visitor visa conditions. These conditions would have certain restriction set on the period of stay allowed and duration of study allowed. Also Visitor visas do not entitle you to work in Australia. All visa applicants should take care so that you do not overstay once the visa has expired.
Migration laws are always changing and that is the reason why it's best to consult with a Registered Migration Agent at Migration Guru who have the expertise required to handle even the most complex cases.
Whether you or if you know someone who can apply for visitor visa, encourage them to contact Migration Guru to see how we can assist. Migration Guru has assisted in countless visa applicants and has more than 50 years of collective experience in a dynamic team of Solicitors and Migration Agents in Brisbane, Gold Coast, Canberra and Hobart. This experience ensures that staff can advise and navigate client's through the new changes to find their best visa options.  We wish to remind readers that the first consultation with Migration Guru is free of charge.
Our team may be contacted by via email on info at migrationguru.om.au or by calling 07 3036 3800. Readers are encouraged to follow us on Facebook for all the updates to Migration Law – https://www.facebook.com/migrationguru/
Disclaimer: – The above article constitutes only generic information on migration issues, and does not constitute specific migration advice to any entity or individual.