Employer Nomination Scheme Visa | Subclass 186
ENS visa 186 is a permanent visa. It allows workers to stay in Australia permanently.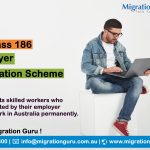 There are three 186 visa streams:
Direct entry stream: The worker must be selected by the Australian employer for the job on the approved list.
Labour Agreement stream: 186 visa allows an authorized business to appoint a visa employee under labour agreement. The Department of Home Affairs is working with employers to make an agreement.
Temporary Residence Transition stream: Open to workers who have worked for their employer for three years under 457 visas. Also, workers on a skills shortage TSS visa or related bridging visas A, B or C can be considered for this visa.
Australian Skills Shortage visas
Temporary Skills Shortage Visa | Subclass 482
The TSS 482 visa helps Australian employers solve skill shortages in the labour market.
482 employer-sponsored visas are available in three streams
Short Term
Medium Term
Labour Agreement
If the job is not on the skilled occupation list, it is possible to apply for labour agreement.
Skilled Employer Sponsored Regional Visa | Subclass 494
The new 494 Australian Government visa enables successful applicants to live, work and study in designated regional areas of Australia.
Designed for regional employers to address the identified staff shortage within their region by funding skilled workers where employers will not be able to find a suitable Australian worker.
With a visa, you can
live, work and study only in designated regional areas of the Australian for 5 years
travel to and from Australia for 5 years
if applicable, apply for permanent residence after 3 years from the time your visa is issued.
Specified region
You can reside, work and study only in selected regional locations covering all of Australia except Sydney, Melbourne, and Brisbane.
Gold Coast and Perth are listed as regional areas.
Training Visa | Subclass 407
This is a temporary visa, which allows you to stay in Australia for up to 2 years
With this visa you can
visit Australia to complete on-the-job training (improve your current job skills, higher education, or specialist field), or a professional training program.
Some positions require highly skilled workers that are not covered by other employer-sponsored visa programs. What should you do to work in Australia?
Another Visa Option – GTI Visa
Global Talent Visa allows businesses to hire the most talented professionals to work in Australia.
Eligibility
To apply for a visa under the Global Talent Visa Program, a candidate will be highly qualified in one of the ten target areas. They will also be able to attract higher wages.
Targeted categories
Resources
Agricultural Food and AgTech
Energy
Health Industries
Defence, Advanced Manufacturing and Space
Circular Economy
DigiTech
Infrastructure and Tourism
Financial Services and FinTech
Education
How can Migration Guru help you?
We will help you explore visa options and secure the application. Migration Guru has experience in immigration and visa application in Australia, and our immigration agents and attorneys have extensive knowledge of legal requirements, eligibility criteria, and supporting documentation required.
Simply dial 07 3036 3800 or email: info@migrationguru.com.au and let us help you start with your way towards obtaining an Australian visa.